Today in Ankara's JW MARRIOT Hotel, the Uzbek President Shavkat Mirziyoev, as part of his trip to Turkey, met with the officials of the Association of Chambers of Commerce and Exchange of Turkey, the Turkish Agency for Cooperation and Coordination (TIKA), Gebze industrial zone as well as the senior executives of Ziraat Bank, Zorlu Holding, Coşkunöz Holding, Eczacıbaşı, Baikar, Dunyagöz, Kanymed Saglık, Bau Global and Havelsan.
The meeting was opened by Shavkat Mirziyoyev.
"The business environment in Uzbekistan has been dramatically improved. We have opened our doors to investors. I guarantee that you will be provided with all the necessary conditions, the same as that you have in Turkey."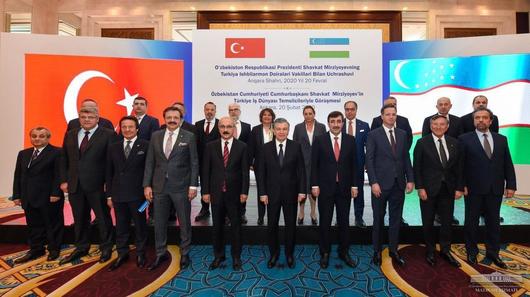 "We didn't have investment regulations before. We adopted the Investments Law last year. This Law protects the rights of all investors in Uzbekistan.
"The Investments Minister Mr. Umurzakov and Mr. Gulomov (Ravshan Gulomov, Advisor to the President on Economic Development, Investment and Foreign Trade Policy) from now on will be working closely with you. I gave an order that 5 employees in the ministry will be dealing with investment".
Shavkat Mirziyoev urged Turkish businessmen that it was big time to take actions.
"It's high time to act. We must establish an institutional system for dealing with the Turkish companies".
"At the talks held with the President of Turkey, they agreed to comprehensively support business contacts between our countries."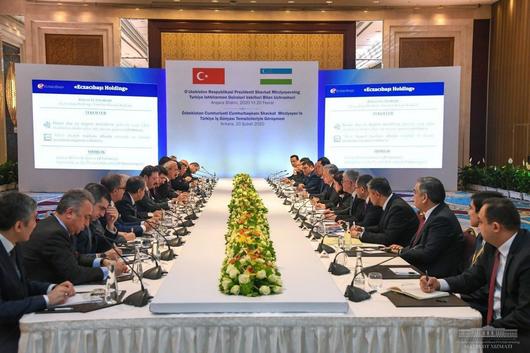 "Uzbekistan is not like it was. Today, a company entering our country will definitely get profit. I guarantee it. The necessary legal and institutional conditions will be created for this".
Shavkat Mirziyoyev noted the importance of implementation of the signed agreements, the active promotion of joint projects in the fields of trade, innovation, energy, infrastructure development, transport, tourism, textile and food industries, and other industries.
The Turkish business executives noted that they visited Uzbekistan last year and witnessed transformations in all sectors of the economy and people's "reformist thinking". They expressed their desire to enter the market of Uzbekistan and implement projects.
At the meeting, issues of further strengthening ties between the ministries and companies of the two countries were discussed, specific projects to expand the supply of products and services, setting up of clinics and higher education institutions were considered. President Shavkat Mirziyoyev approved these plans, instructed those in charge to begin practical work as soon as possible and implement projects without bureaucratic obstacles.